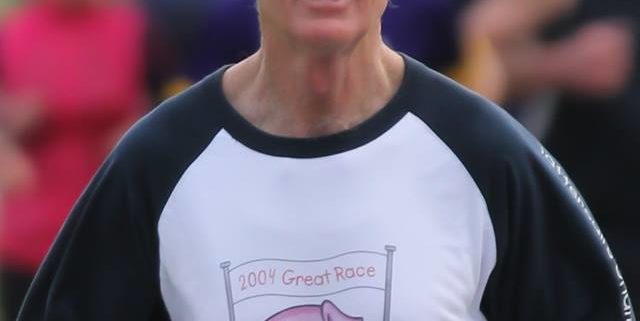 Club news
Athletics track – Next Tuesday will be our last night at the Athletics Track. It has been great to run there as well as have our handicaps. Keep an eye out in the future newsletters and facebook as to where we will be training in May.
Are you training for an event coming up?
Defib training – St John has been advised by Department of Health & Human Services that we have been successful in obtaining a defibrillator for the SRC. One of their trainers will come out to the club to install the defibrillator and provide you with some training. We are expected to have a minimum of 5 and a maximum of 20 members attend the training session.  The training session will comprise of a comprehensive overview of the defibrillator, CPR, Strains, sprains, wounds and bleeding, head injuries etc.
The training will be at a date to be confirmed in the near future. Please let Rosalie or Nadine know if you are interested
O'keefe Marathon and Fun run – Good luck to everyone racing this Sunday and watch out for Kathy and Narelle who are up to marathon No 4 for this year.
Up-coming runs & events
April 22 The O'Keefe Challenge – Trail Run/Walk – Marathon No4 for Kathy & Narelle  Website  
April 23 Film night Guernsey literary & potato peel pie society FUNDRAISER Facebook event page
April 29 Bright Fun Run Website
April 29 Tatura Hospital 8am Rego 9am start
April 28 Ocean Grove Parkrun launch
May 13 Mothers Day Classic
May 19 Euroa Parkrun launch.
July 1 Gold Coast Marathon Entries close Friday 29 June 2018 (5pm AEST) Website  
August 26 Shepparton Running Festival  Facebook   Website  
October 14 Melbourne Marathon Website 
October 28 Ned Kelly Chase Website
Runner Profile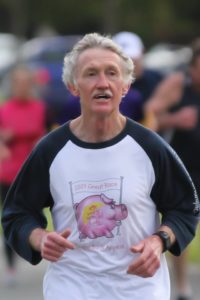 Name  – Kevin Bell
Age 66
PBs
5k-16.59   10k-34.52  Marathon-2hr 54.50
What inspired you to start running?
Keep fit after finishing football.
How many years have you been running?
Been running about 32years.
Typical training week – 3 runs, 2 rides, 2 swims.
Goals – World Triathlon Age Group Championship on the Gold Coast in September.
Biggest challenge is fully recovering from a recent injury.
Biggest breakthrough in running. Breaking 3 hours for the marathon.
Most enjoyable run would be City to Surf in Sydney because of the atmosphere.
If I could run in any event it would be the London Marathon, but I would need a time capsule to take me back 25 years.
I am inspired by every person who puts on a pair of running shoes, especially the ones who run Parkrun between 30 and 55 minutes.
Best advice would have been – If you can,t say anything nice about a person, don,t say anything at all. If you need something inspirational, just watch the finish of the wheelchair marathon at the Commonwealth Games and listen to the interview straight after.
My New York Marathon Experience
– Christina Bassani – 2013
Wow! What an experience of a lifetime. On 3rd November 2013, I completed my very first marathon. That is 42.2kms (or 26.2 miles). It was not just any marathon. It was the New York Marathon! Yes, New York, New York. The track for this run covers the five boroughs of New York. Staten Island, Brooklyn, Queens, The Bronx and Manhattan. Unbelievable. What better way to see the real New York?
I'd decided in September 2011 that I wanted to run the NY Marathon. Why?  Because I wanted to commit to running marathon and I figured that one would be a great one to do.
I questioned, Could a novice runner like me enter it? Could I train enough to get in? Could I train enough to finish? Did I have what it takes to run through the 42.2kms or 26.2 miles and still be standing at the other end? Did I even like running?
Actually I love running. What I love about running is that you get to think clearly after a hectic day at work, you get to innovate whilst you run, you get to creative, you get to see things, you get to test yourself, you get to relax and listen to music and you get to enjoy experiences that come purely with running like problem solving about hydration.
Could I enter the NY Marathon? I investigated and found a travel agency in Australia set up for running marathons across the world. They did everything for you. Travelling Fit is their name. I contacted them to enter the 2012 NY Marathon. But it wasn't that easy. I had to go on a waiting list for a few months as all the allocated tickets to that agency had been taken. So I was on a waiting for people to change their mind. Who would do that? I did not make the list for 2012 and was put on a priority list for the 2013 group. But the 2012 NY Marathon ended up being cancelled due to Storm Sandy. So in a strange way it was a good thing I missed out on entering 2012. I was so lucky.
In February 2013 I got a call inviting me to commit to a spot in the NY Marathon 2013. My spot!  I had to decide was I in or not? Yes, yes I am in! And so the commitment to training began. What was I getting into? Did I even know? Maybe not, but I was very excited.
https://sheppartonrunnersclub.com.au/wp-content/uploads/2018/04/30831727_10217169946505240_622041140_n.jpg
960
640
admin
https://sheppartonrunnersclub.com.au/wp-content/uploads/2017/06/SRC-Logo-300x221.png
admin
2018-04-19 12:52:39
2018-04-19 12:55:27
SRC E-News April 20