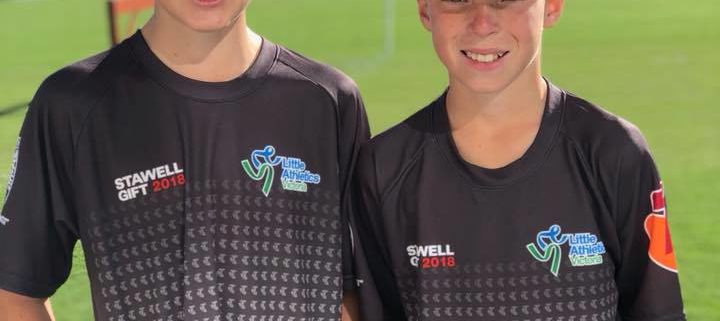 Club news
Congratulations to the winners of todays 1600m handicap event. With 3 heats plus a final, it certainly proved an event for all ages. Pictured are the winners of the heats and the final. Top 4 in each heat went through to the final.
The final was won by Harry Cole, little bloke pictured in the green shirt (what a little gun!!!). Second in the Final was Debbie Harvey, and Cameron Wood snuck in on the line for the third place. Declan Wood, Larry Smith and Max Carroll also won their heats.
Congratulations to all participants, and a massive thank you to Sportsmans Warehouse for supporting the event. We really appreciate your sponsorship.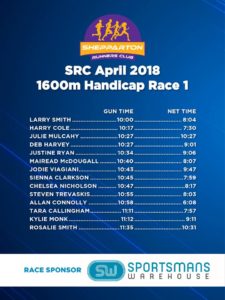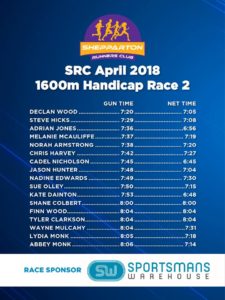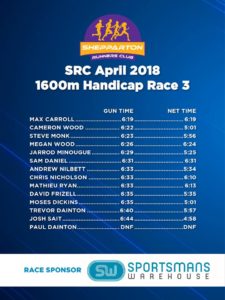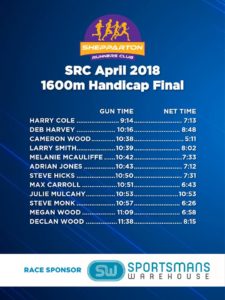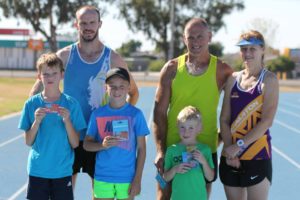 Runner Profile
Max Carroll
Age: 11
Current PBs: 5km-23:19
What inspired you to start running?
I started running with my family and I really enjoyed it.
How many years have you been running?
This is my second year running.
What does a typical training week look like for you?
On Tuesday and Thursday I have football training or running training with SRC or both. I try and go to park run every week. I do some type of running every day.
What are your running goals for the next 6 months?
I want to get under 23 minutes for the 5km and keep working on my track events.
What is your biggest challenge and what do you do to manage that challenge?
Learning how to pace myself was hard, but Rob has helped me heaps with that.
Have you had a breakthrough in your running, if so, what was it?
I did my first 10km earlier this year and I was worried that I wouldn't be able to do as well as I expected, but it went really well.
Where is your most enjoyable place to run?
The Shepparton Lake where we do park run.
If you could run in any event in the world, which event would it be?
800m in the Olympics
Who inspires you to run?
Jeffrey Riseley, because he never gives up.
What was the best advice you were ever given?
To run my own race.
Is there anything else you'd like to share like a funny moment, or something inspirational?
I really love running and I am going to try and keep getting better and faster.
Shepparton Running Festival
Now's the time to grab your running buddies and enter the Shepparton Running Festival.
Our Early Bird pricing finishes this Sunday 15 April at midnight.  
There are five events to choose from; Marathon, Half marathon, 10km, 5km and 2km.
NEW…Team up for the Marathon!
Would you like to taste the excitement of a marathon but share the effort and cost with your running buddies?
Our marathon course is 3 x 14km loops so you can enter as a RELAY team. Psst…. price rise this Sunday so now's the time to team up!
Click here for all the details: https://bit.ly/2GNW27K
Congratulations Kathy Fuller and Narelle Pell. The movie night has SOLD OUT.  We are all looking forward to a fantastic night out. Monday, April 23, Cinema 1, 6:30 for a 7:00 pm start and afterwards at the Aussie Hotel.
Upcoming events listed on the SRC facebook events page and updated regularly  –  HERE
Commonwealth Games 
Three Aussie Women show the meaning of Sportsmanship
In need of some running inspiration? Then let the amazing sportsmanship of our Commonwealth Games athletes motivate you. Dedication, sacrifice and sportsmanship has very much been on show this last week, with some admirable performances in the men's 5,000m and women's 10,000m events.
Stay tuned for what is sure to be some unforgettable Commonwealth Games moments, with some fantastic distance events including the mens and womens marathon still to come – read more  
Where are you on the Running Lifeline?
Ever wondered how long it will be before you hang up your running shoes? Knightswood House has developed a handy tool to help you figure it out! Not only will it help you identify which stage at the lifeline you are at, but it also helps you get a clear vision on your big dream and what it'd take to make it a reality.  Find out where you are! 
Marathon stats
Running and in particular marathon participation has been enjoying a boom for several years now, and is arguably the biggest growth sport of the last decade.
Check out these numbers;
The US shows a 30% increase in marathon finishers in past 10 years .
China has the fastest growth in marathons & recreational runners with growth in marathon races from less than 10 marathons to over 500 per year in the past 10 years.
Both China & the US have over 500,000 marathon finishers in recent years, whilst Australia had early 25,000 finishers in 2017.
Women's participation globally is up 27% (men's by 8%), on average women make up only 30% of marathoners.
By comparison, our Melbourne Marathon has been Australia's biggest marathon since 2013 when 8066 entries produced 6820 finishers.
The average road MARATHON finishing time for MEN IS 4:00:16, and WOMEN is 4:28:29
Friday's funny
Tara Callingham & Steven Trevaskis trying to synchronise a jump during the Albury half marathon.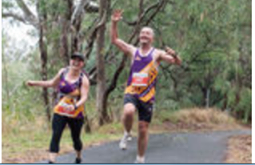 https://sheppartonrunnersclub.com.au/wp-content/uploads/2018/04/11224282_986349228189880_3517298448527177490_n.jpg
960
720
admin
https://sheppartonrunnersclub.com.au/wp-content/uploads/2017/06/SRC-Logo-300x221.png
admin
2018-04-12 11:18:11
2018-04-12 22:10:36
SRC E-News April 13