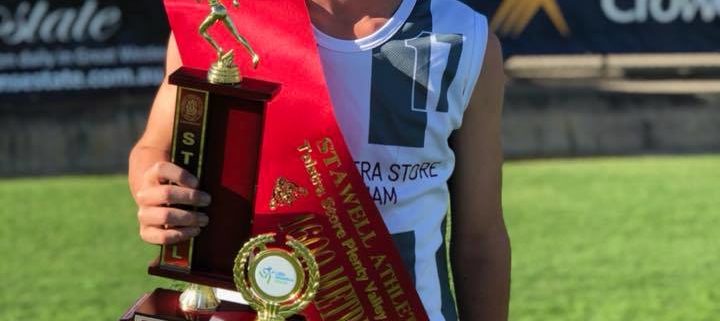 Club news
One of the nicest kids you'll ever meet, really proud of you Dylan and all the hard work you've been putting in – coming off the back of running in a half marathon last week as well!, super happy for you and the family – well done from Chris and Norah
Dylans winning run 
🙂
https://m.facebook.com/story.php?story_fbid=1773613302700884&id=194652980596932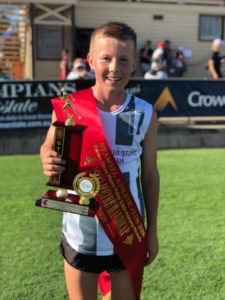 Congratulations to Dylan Scoble winner of the Telstra Store Plenty Valley Little Athletics Handicap – 1600m Final.
Race Report – Dylan Scoble
On Saturday 31st of March Mum, Luke, Max and I arrived at Central Park, Stawell. Max and I were competing in the 800m. I was in the 3rd heat, I finished fourth in my heat, but didn't make the finals. The next day I was competing in the 100m and the 400m. In the 100m I placed second in my heat, but just missed out on the finals. After the 100m I did the Easter egg hunt, it was a very disappointing efforts as I came out with seven. In the 400m I finished 7th in my heat. On Monday I competed in the 1600m handicap. I started off running a steady place, then at two laps to go Solomon Mieson passed me, I thought he might win. With a lap to go I picked up the pace and caught the pack in front of me, then it was just me and Solomon, at 200m to go I started to catch up to him. Then at the line I just got him by .3 of a second. At the end of the race I got a sash, a trophy and a speaker, I also had to give a speech and if you know me you know that I hate public speaking.
Correction.
Correction from last weeks newsletter. If you want to help out with pacing or in any other way with the Mothers Dat Classic please contact Kathy Fuller, or Christina Bassani. Narelle Pell is not on the MDC committee as assumed by me. Apologies for any inconvenience. – Steven Trevaskis
1600m Handicap – Sunday April 8th – First race at 8:45am
3 races with the top 4 from each race to progress to the final. The 3 heat winners will each receive a $30 Sportsmans Warehouse voucher, with a special prize for the winner of the final.
Event Pre-Brief – 8:30am
Race 1 – 8:45am
Race 2 – 9:00am
Race 3 – 9:15am
Final – 9:30am
Presentations – 9:45am
Please register now by replying to the event or comment below to assist with handicapping.
Cost – SRC Members $0
MORE INFO ON THE EVENT PAGE HERE
Remeber to check the SRC FB page for the latest up coming events and races. It is updated regularly.
Sheppparton Runners Club Facebook page here
PLEASE NOTE – We will be having a working bee at the clubrooms in the garden after the handicap.
Here it is!
Welcome to another edition of Shepparton parkrun weekly news.
http://www.parkrun.com.au/shepparton/?p=1089
We are looking forward to seeing everyone next Saturday. Bring your family, bring your friends and don't forget your barcode!
Parkrun Stats
Main Beach Parkrun, where it all started in Australia.
The countdown continues. It's only 1 more sleep until our 7th Anniversary on the 7th of April.
Parkrun is in every state (as well as the two mainland territories)
We all know that Main Beach parkrun was the first parkrun in Australia (and then by default 1st in Queensland)  do you know which parkrun was 1st in each of the states and territories? See the list below to see if you were correct.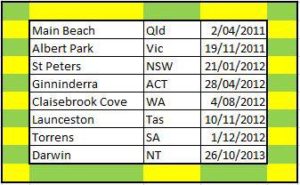 Upcoming events
Heathcote marathon and fun run. April 22, https://www.theokeefe.com.au/
GUERNSEY LITERARY & POTATO PEEL PIE SOCIETY.
April 23, 6:30 pm
This is a fundraiser for GVCASA organised by Kathy Fuller and Narelle Pell. Please note that you need to book tickets via Trybooking.com/UYLN or at Collins Book Sellers in Shepparton.
Did you miss our Super Saver prices?
Enter before midnight on Friday 6th April and take advantage of the extended Super Saver prices – simply enter the code SUPEREXTRA for the 10% discount.
The Gold Coast Running Festival is perfectly placed to use as a build up for other marathon and half marathon events later in the year.  For more information on the event, visit our website or facebook page.
Steve Monaghetti on avoiding injuries for Gold Coast.
Their are several reasons to run at Gold Coast this year. 1. It's the 40th year for the GC running Festival. 2. You get to run with Kathy Fuller and Narelle Pell in their 12in12 quest. 3. Top temp is 23 deg in the middle of winter.
So don't get injured. https://goldcoastmarathon.com.au/2013/06/06/steve-moneghetti-injuries/
Shepparton Running Festival
Early bird entries now OPEN! Sign up, save and race Shepparton, 26 August 2018. There is a distance for everyone!
Enter Here: http://bit.ly/2oyq0FV
Runner Profile
Christina Bassani
Name Christina Bassani
Age Fabulous 40s
Current PBs xxx
What inspired you to start running?
I used to run with my brother when I was little. He was seven years older and I enjoyed running with him
How many years have you been running?
Off and on since I was little
What does a typical training week look like for you?
Currently I'm trying to build my fitness again so aiming for 3-4 sessions a week
What are your running goals for the next 6 months?
Hoping to get back to running a half marathon distance and feeling great after it
What is your biggest challenge and what do you do to manage that challenge?
Running consistently each week after a long time not running whilst juggling a busy job and home life
Have you had a breakthrough in your running, if so, what was it?
Doing my first half marathon and then my first marathon. Before that I didn't think or believe I could run either distance.
I've run 25 half marathons in total and only one marathon
Where is your most enjoyable place to run?
Love running by the sea. However anywhere outside in nature is great.
If you could run in any event in the world, which event would it be?
Lucky enough to run my dream marathon in New York 2013. Loved it. Hope to run in Paris one day.
Who inspires you to run?
People who love running! People who have a go and give their best and enjoy it! People who have pushed themselves despite the odds and keep going..
people who break new boundaries..
So many all around us, locally and in the broader running community…
So many to mention.. but Kathy Fuller and Narelle Pell currently!!! Those running angels are amazing!!
Deeks! And what he does now for indigenous runners!
Kurt Fernley.
Amazing local runners who inspire me with their commitment and goals, every week, so many in the shepparton runners club and beyond.. thank you!
What was the best advice you were ever given?
During a long run you will hit a bad stage..a difficult stage..it's like life.. keep going, one step at a time and you will get threw it and you will even go through a wonderful stage too..
Is there anything else you'd like to share like a funny moment, or something inspirational?
The funniest sign I've seen when running was in Brooklyn during the New York marathon , it said "run like you've stolen something "..
Running is a gift. It is a gift that anyone can do. Running is a wonderful thing to do and you can do it anywhere. Fast or slow. It gives me the patience to enjoy the scenery, the strength to tackle any distance or fun run, the resilience to keep going no matter what and the joy of a running community like the shepparton runners club, opportunities of fundraising for events, organising events or the camaraderie of my running pals. Many friendships are formed and nurtured through running.
It is an amazing thing that anyone can try!
Commonwealth Games news
Male
5000m Morgan McDonald, Dave McNeill, Stewart McSweyn
10,000m Dave McNeill, Stewart McSweyn, Patrick Tiernan
Marathon Liam Adams, Chris Hamer, Michael Shelley
Female
5000 Madeline Hills, Celia Sullohern, Eloise Wellings
10000 Madeline Hills, Celia Sullohern, Eloise Wellings
Marathon Virginia Moloney, Jess Trengrove, Lisa Weightman
AUSTRALIAN ATHLETICS 2018
COMMONWEALTH GAMES TEAM Click here 
Daily Schedule Click here  
This Saturday, be inspired by the Aussie Athletes and get yourself moving. Join other runners, walkers, and rollers at one of the hundreds of parkrun events. It's free and fun!
Off topic – Sam and Tara Hiking Mt Bogong.
3 days, 34 kms, 2250 mts gain and same loss, multiple creek crossings.





https://sheppartonrunnersclub.com.au/wp-content/uploads/2018/04/29598408_986780391480097_5249710264386891704_n.jpg
960
720
admin
https://sheppartonrunnersclub.com.au/wp-content/uploads/2017/06/SRC-Logo-300x221.png
admin
2018-04-05 12:21:27
2018-04-06 02:08:37
SRC E-news, April 6