Melbourne Half Marathon
By Norah Armstrong
We had to be up early as Chris was running the marathon at 7am so I set my alarm for 4.30am. I had some muesli and started sipping a bottle of water as I knew it was going to be a warm day. After a shower I helped Chris put on his race bib on we were picked up by our Uber driver and made our way to Flinders Street.
This year was the 40th Anniversary of the Melbourne Marathon and my second attempt at the half marathon distance at Melbourne but fifth at this distance. I looked forward to giving it another go as the weather conditions in 2016 were not favorable for a fast time. This was not the case on Sunday and Melbourne gave us perfect conditions with sunny and little wind. I missed out on the Gold Coast half this year (July) with a tight left calf and was out of action for about 6 weeks. I was a bit nervous and felt a little under done as I had missed a few long runs. I also had in the back of my mind that the last 5km of the course had some up hill sections that could slow me down especially after 18km.
At 7am we watched the start of the marathon, 10km at 7.30am then I lined up for the loo before the half at 8am. I don't do too many large events and its easy to forget how long it takes to get to the front of the port a loo line. I had a laugh to myself as two ladies in front of me gambled with leaving the line with 25 minutes to go. It look 25 minutes in the line so with 5 minutes to go I lined up to start.
I went out pretty conservative and focused on keeping the pace consistent as its easy to speed up with fresh legs. I felt like I was getting passed by heaps of people but I told myself to keep it steady up St Kilda Rd and the first drink station. As I turned the corner onto Fitzroy St (5km) we cheered on the marathon leaders coming back on the opposite side of the road. Onto Albert Park Lake and another drink 4 drink stations including some Endura at 12km. I passed through 10km mark in 1.01 feeling good. From here the course goes back to Fitzroy St then a 5km straight back up St Kilda Rd back to the MCG. It felt like it went forever and I was pleased to get to the drink station at 16.3km. A left turn at 17km downhill to Sturt St then an up hill section under the tunnel to Linlithgow Ave. Back onto St Kilda Rd then up the footbridge and a view of the MCG. I saw about 3 x photographers as I jogged up the bridge but I don't think I will get these photos. This was the last tough section before the finish so I gritted my teeth and kept going as I new in 1 km it would all be over. So along Brunton Ave the crowd was thick and cheering loud. Just what I needed to get to the tunnel into the MCG then a quick lap to the finish line and a PB 2.15.43.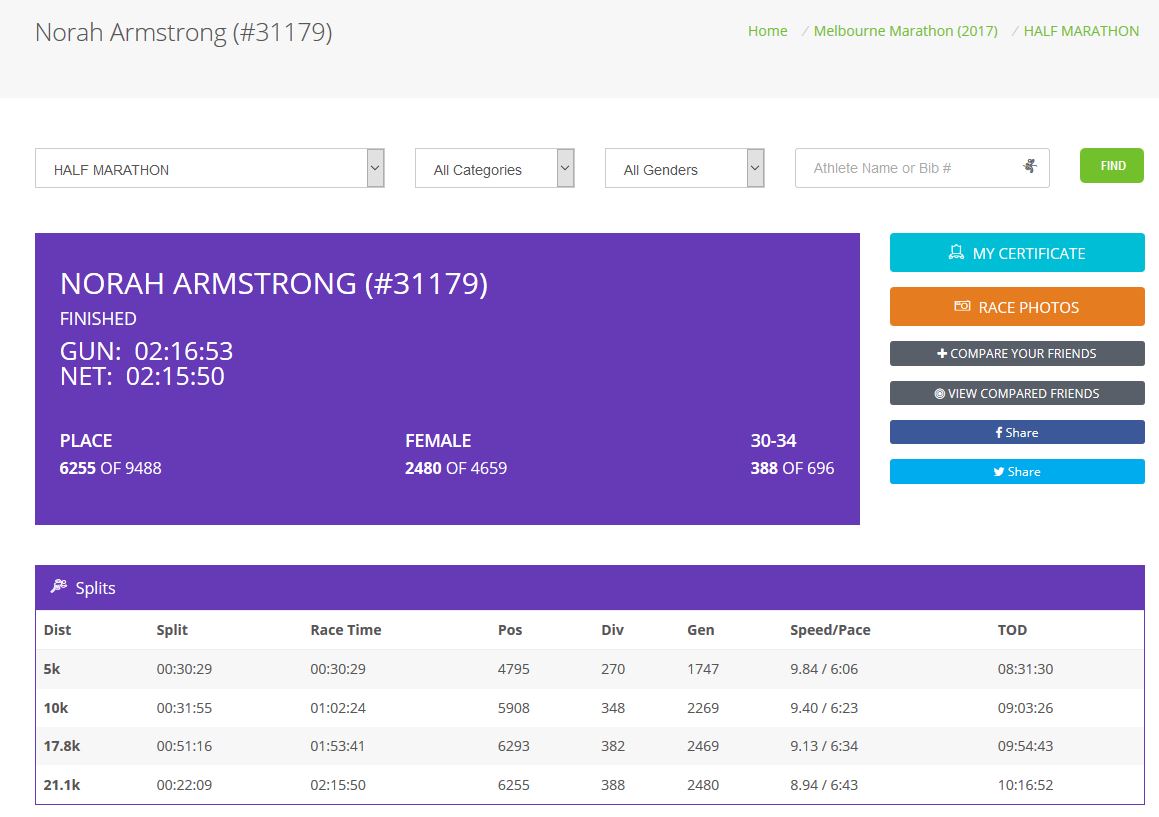 Melbourne Half marathon
by Trevor Dainton
It was a great feeling to run onto the MCG on Sunday but an even better feeling to cross the finish line.
I was thrilled to run a PB of 2 minutes 13 seconds to have a net result of 1:28:46.
I got a monkey off my back so to speak to break the 1:30 mark.
The weather was perfect, the support fantastic and ecstasy of crossing that line wonderful.
All the hard training paid dividends.
Although at the 10km mark I thought I had spent too many petrol tickets, it is surprising where you find some more gas.
I can now plan for my next half marathon in the Shepp Challenge tri event running in the team event, then the 28km Two Bays in January.
Congratulations to all the other SRC members who competed and who ran PBs, in particular Chris and Norah Armstrong, Steve Trevaskis and Jason Hunter.
Also to other Sheppartonians in Josh Sait and Matt Bolton who performed well in the marathon.
Melbourne Half Marathon
By Jason Hunter
It was my first crack at 21KM in witch I have not run 21KM the moving pace was hard the wind was a bit hot and I compared the weather from Shepparton's running festival on 26 of August. Doing the Marathon it had perfect weather to breath more then today at the MCG Stadium. Cold weather is the best to run in and the drink stations were amazing! and right at the finish line stacks of drinks and the amount of runners was incredible like watching a war movie thousands by the thousands. l I don't think you will see this many people at Shepparton event festival etc. And my goal was to be able to hold a 4: 47 pace throughout 21KM in witch I achieved at 5KM then after that I began to slow down to 5:07 and onto 16KM left to go and slowed right down to 7:03 In witch I had failed. But will achieve this one-day I tried to keep up to the pacer of 3 hours and 10 minutes I should have done that throughout the start line but could not find the pacer went to fast for me to keep up and i'm like WOW! imagine me running like that I would have achieved 22:12 at Parkrun running that pace in under 3H :10.
The Gold Coast 2018 Commonwealth Games Corporation (GOLDOC) has announced the local batonbearers from Greater Shepparton who will carry the Queen's Baton during the 100-day countdown to the Gold Coast 2018 Commonwealth Games (GC2018).
Congratulation to SRC members Allan Connoly and Kathy Fuller on this honour. It is great to see your community activities are appreciated with this task
Congratulations to Mike Scandolera on getting a spot in the relay
The Gold Coast 2018 Commonwealth Games Corporation (GOLDOC) has announced the local batonbearers from Greater Shepparton who will carry the Queen's Baton during the 100-day countdown to the Gold Coast 2018 Commonwealth Games (GC2018).
The successful batonbearers to carry the Queen's Baton around Greater Shepparton are Zahra Al Hindawi, Joshua Baginski, Alana Baldi, Stephen Barker, Kenneth Birkett, Rhonda Cator, Allan Connolly, Kayne Crompton, Lloyd Freer, Kathy Fuller, Todd Hodgetts OAM, Jennifer Savage, Damien Saxon, Michael Scandolera, Dhami Singh, Damien Stevens and Jacinta Todd.
Across the community, hundreds of people will get the opportunity to engage with the Baton as it spends quality time in the region arriving in Greater Shepparton on Wednesday 14 February 2018.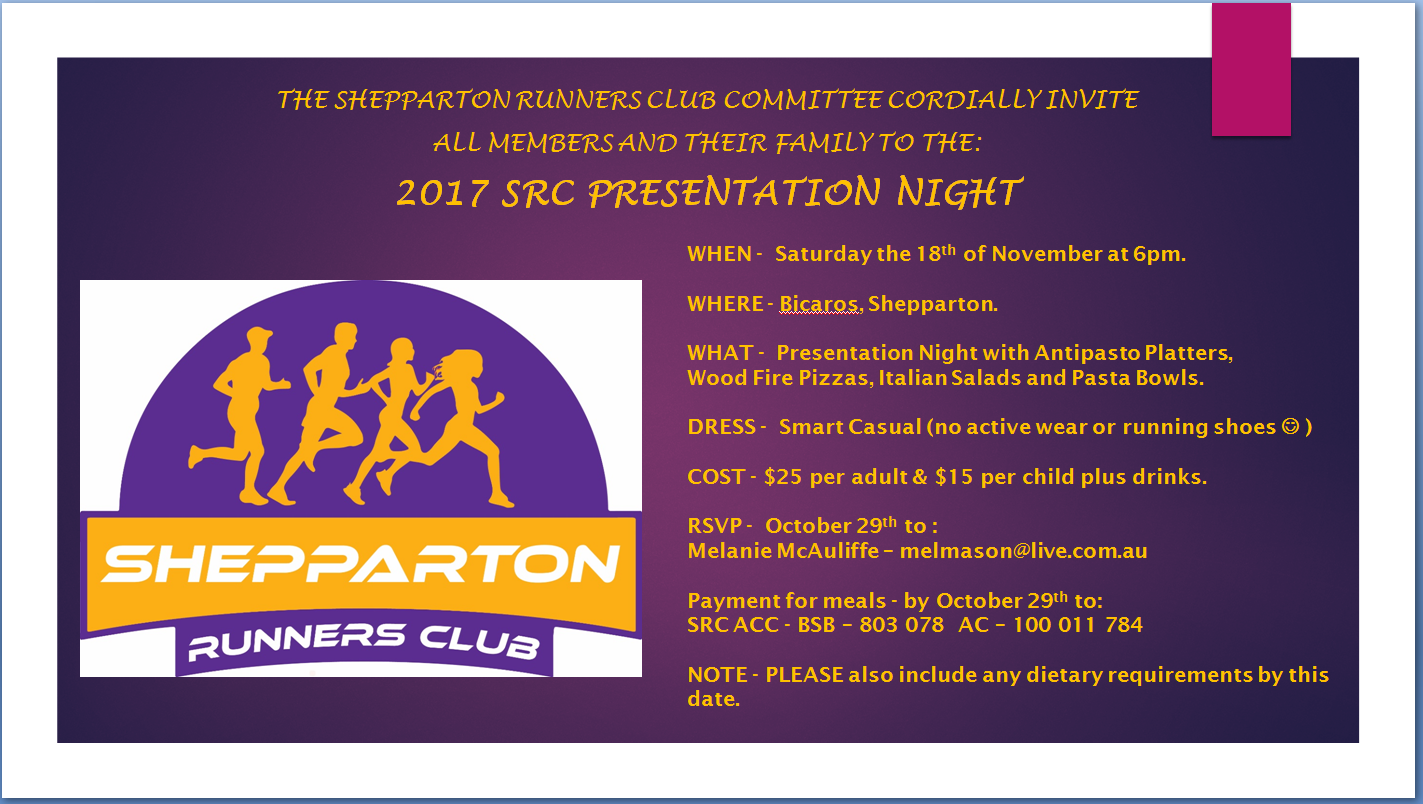 It was another great week for parkrun this week with beautiful weather and more celebrations. Don't forget to put your name down if you are interested in travelling by bus to Mount Beauty parkrun on the 11 November by letting Rosalie or Allan know ASAP. Full details are in this weeks newsletter
Runner Profile
SRC – Secretary
Name:  Rosalie / Rose/ Apples (Granny Smith)
Age:  55
Occupation:  Building Services Co-ordinator at Master Builders Association
Marital status & children:  Married to Larry and we have three grown children, Shannon, Jacqui and Robert and expecting our 9th grandchild in November.
How long have you been running:  About 3 years
What are your race PBs:  5km 27:12  10km 1:10:26
What are your running goals?  To be able to run longer distances.  Half marathon next year at Melbourne Marathon is the goal.
What is your favourite race:   I love the Great Strides event around the Tan in Melbourne in October, raising awareness and funding for Cystic Fibrosis.  Inspired by a young sufferer, now 9 years old,  who has run about 5 of these events.
Why did you take up running:  Initially to increase my fitness.
What other sports do you participate in:  Go to the gym. Love 'Outdoor Functional Training'.  Bike riding.
What is your favourite T.V show:  Australian Story
What is your favourite music/band/singer:  Bruce Springsteen.  Huge highlight was Larry and I attending this year's concert with our three children, their partners and my brother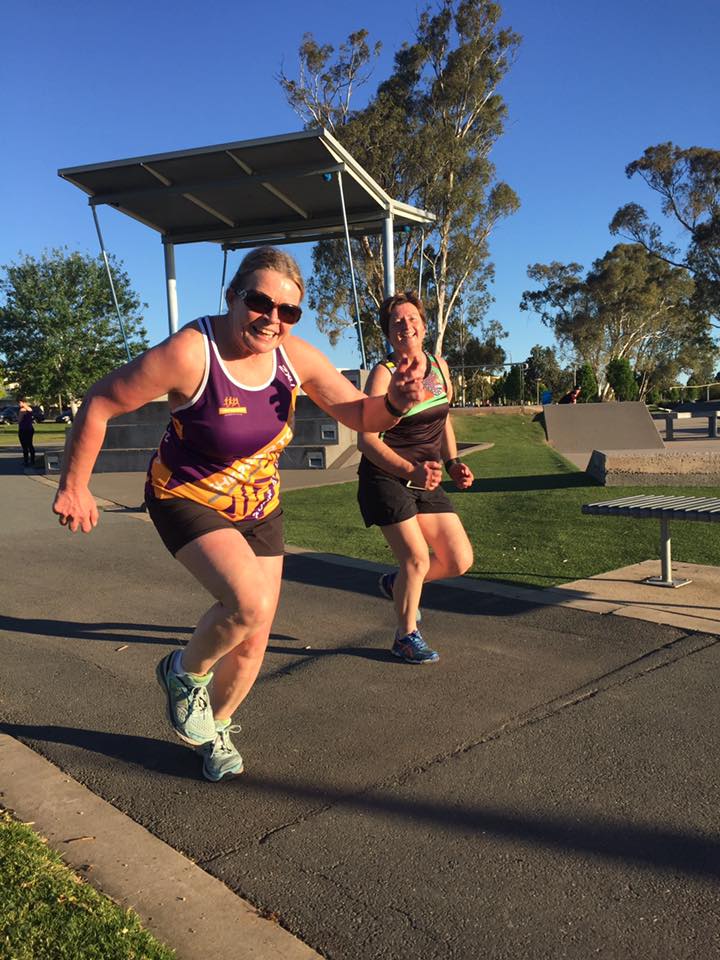 Tell me your tails podcast
Something a bit different here. An audio blog of my weekend down at the Melbourne Marathon Festival, featuring Kane Cornes (2.35), Benny Walker (debut HM), Luke Crameri (2.51), Jess Trengove (2nd Female HM), Chris Armstrong (2.48) and Liam Adams (3rd Male HM). I hope you enjoy it. (Photo: Medibank) https://itunes.apple.com/…/podcast/tell-me-yo…/id1116511977…
Park run – Road trip
There will be NO PARKRUN on Saturday 11th November due to the Challenge Triathlon.  There will be a 5km fun run held on the Saturday morning.   For those interested in visiting another Parkrun, we are organising a mini bus to travel to Mt Beauty Parkrun.  The bus will be leaving Shepparton at 5am and Chris Harvey has very kindly offered to drive for us.  If we can get 24 people the cost will be $20 per person, ($35 pp for an 11 seater, $30 pp for 13 seater).  Please fill your name in on the sheet at Parkrun on Saturday or let Allan Connolly or Rosalie Smith know.  Email Rosalie ringrosebss@gmail.com