Gold-Coast Marathon 2017 – Race Report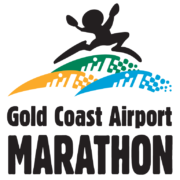 The lead up to Gold Coast Marathon went smoothly. I was pretty much in denial that I had committed to running my first marathon in another state that was away from my family!
I woke up at 3:30am Sunday morning.
I was feeling calm until my running hydration pack that had my watch, fuel, sunnies, ear phones, chafe cream, suncream and meds in my pack was taken from the tent an hour before the race. I crumbled! Tears ran down my face. Everyone searched for my bag but it had disappeared. Louise Seccomb came to the rescue and instantly gave me a hug and calmed me down. Louise's bib was in my hydration pack! We quickly went to information to register her. They could not give her a bib, which meant she didn't get official time.
Then we went to the start line, There was no time for nerves!
Louise & I talked, laughed, cheered people on, danced when passing bands, high fived kids. At around 20km I started to get tummy issues as I didn't have my meds or proper fuel so we made some stops. Louise was feeling the heat and felt sick. It was already so hot at this stage.
We saw Norah & Chris at around the 30km stage and I remember feeling so HAPPY it was a great lift and was feeling good.
At the 32km stage. my brothers QLD running group gave us a big cheer and yelled out that the wine was cold and ready for me! I was feeling great.
Then… it got even hotter, there were less supporters and from 32-35km I could hear a voice in my head saying "this is tough!" I walked through the water stations and poured water over my head. I had been warned about this part – the soaring heat on my head – I could feel my head pounding.
I got my rhythm going and then had 7km to go. I remember thinking "pff 7km you have got this and picked up speed. I was feeling strong and happy.
Then with 3km to go a fellow mum runner yelled out to me "think of your family… you can do this!" Tears just rolled down my face. My crazy goal to do a marathon was coming true. I had this in the bag.
The last 3km I picked up more speed while tears rolled down my face. Louise & I embraced in a big hug with more tears. We did it!
Norah & Chris were waiting for us at the finishing line. They gave us a big hug.
I learnt that really all I needed was my 2 feet, a big smile and my mind not telling me to give up.
I also learnt that without a huge support around me from Louise, family, friends, Chris & Norah Armstrong and SRC it would not have been achievable.
Would I do it again? Absolutely we are already looking forward to getting a marathon PB : )
Keep running, believing & Smiling
Kate Dainton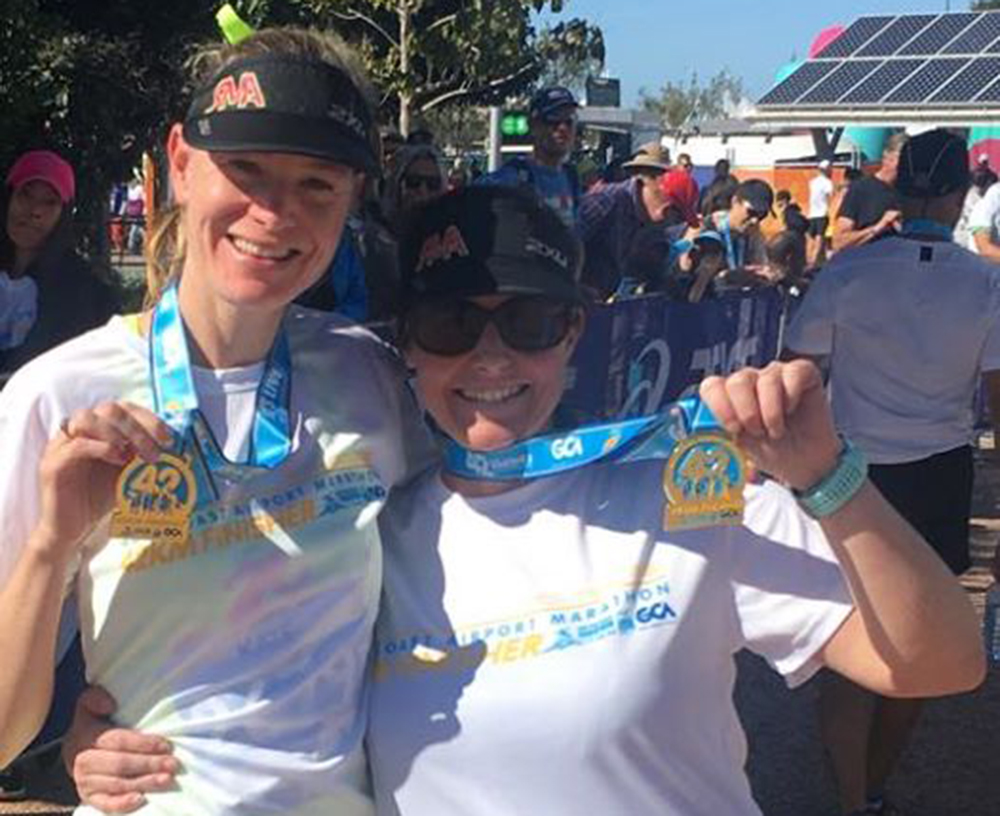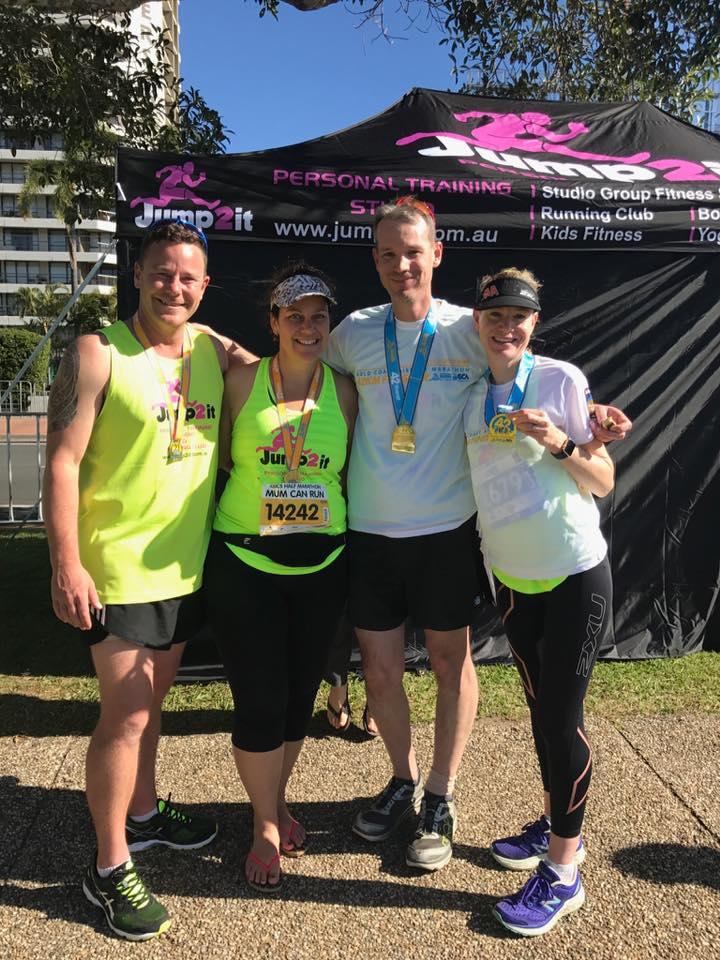 Gold-Coast Half Marathon Report
I'd been looking forward to this event for months, a lot of time and effort had gone into getting onto the start line and I was determined to have a good run.
In the time leading up to Sunday morning I spent a fair bit of timeanalyzing the race plan Brady had sent across, it called for a conservative start in the first 5k and then progressively getting faster each 5k there after and then going for it with everything I had left over the last 2km.
All up the race plan looked like this:
1-5k @ 3:42-3:44/km
6-10k @ 3:40/km
10km split 36:50 – 37:00
10-15k @ 3:37/km
16-21k @ 3:30/km and go for home with 2.1km to go – this would land me somewhere around 1:16:30ish
I tried to stay relaxed and treat it like it was one of my training sessions, just longer… and faster thani'd gone before, I wasn't sure how i'd go but was confident in the training i'd done and knew that I would be able to get to 12-15km in good shape.
I felt good in thewarm up and was looking forward to getting the race underway, I had a reasonable starting position about 40-50m back from the actual start line. I had applied for a "sub-elite" start spot more out of hope than expectation (if you don't ask, you don't get) but that got knocked back as I hadn't run a sub 1:17 before for a half.
The start was at6am and it was pitch black but a mild 12 degrees with a little bit of a breeze, once the race started, I felt good and settled into a good rhythm early and was right on the money for the race plan over the first 10km, going through in 36:46. At the turn around point the breeze we had early was there but could feel it blowing into my face so whilst it kept me cool, it wasn't helping me run any faster. I was in a group of 3-4 other guys and somehow I spent most of the next 10km doing the work while they sat in behind me getting the benefit. I was still making good time, but instead of hitting 3:37/km it was 3:38/km and this continued pretty much all the way through to about 19.5kms. I wasn't sure what I had left but decided to put the head down and work as hard as I could (I really should of done this about 10 minutes earlier) the guys around me lifted their work rate as well and we began the charge for home, the last km or so is lined 3 and 4 deep with spectators cheering and you can hear the music pumping and crowd at the finish line and the adrenaline kicks in, over the last 1.1km I managed to average 3:20/km, I checked my watch and saw I was on track to go under 1:17 so made sure I didn't ease up at over the last 100m and was thrilled to finish with an 85 second PB with a 1:16:50.
Race Stats:
0 -10km in 36:46 – 94th best split and 94th position
10-20km in 36:23 – 60th best split and up to 76th position
20km to Finish in 3:40 – 36th best split and up to 70th position out of 8206
Over all I'm very pleased and proud of the result, I think I could of raced a little smarter and harder at different times but I'll take a new PB and as long as they don't change the qualification times, I'll be able to start in the sub-elite section next year.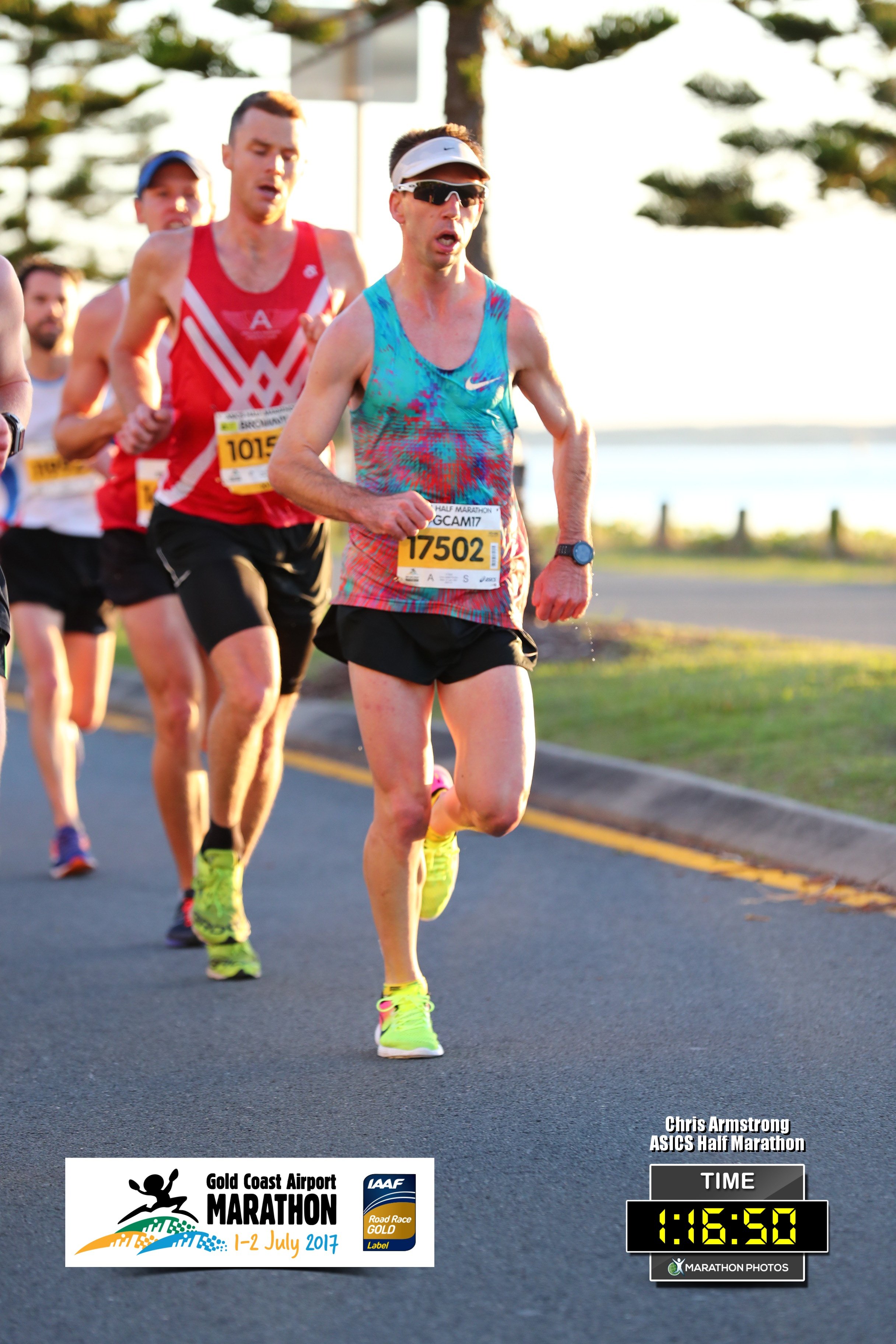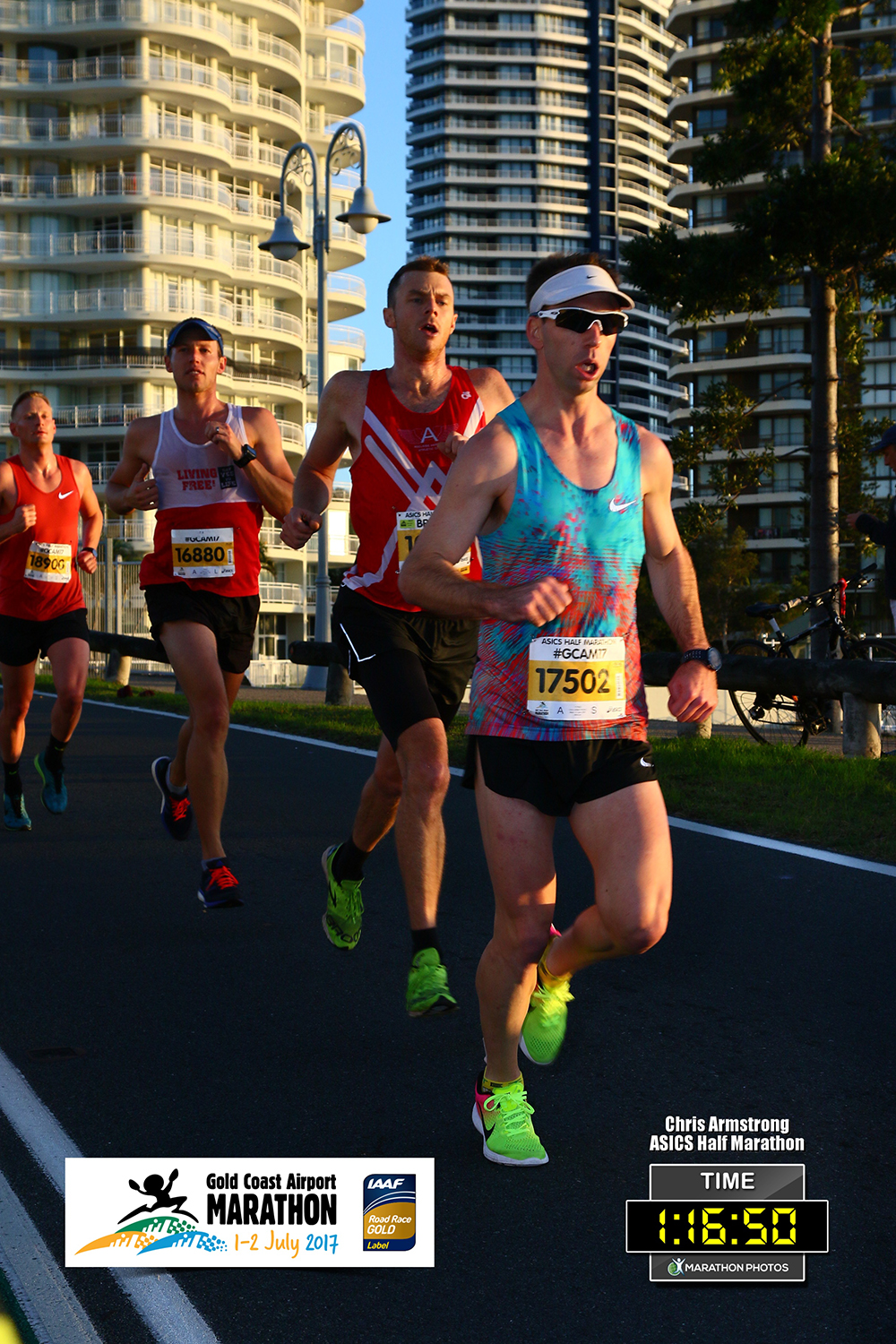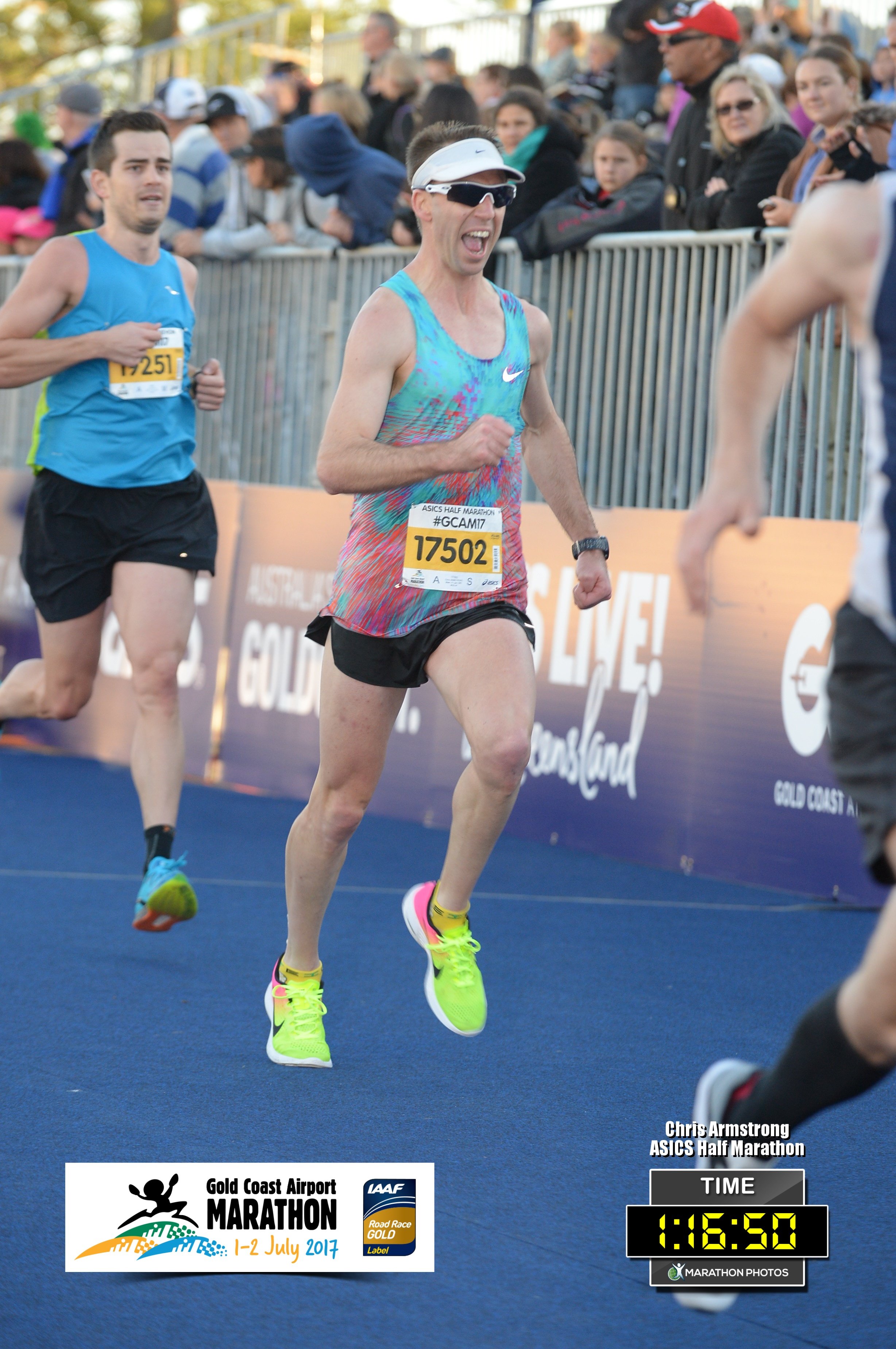 We are adding a new training day leading up to the Shepparton Running Festival!
Currently you can train with SRC on Tuesday's at5:45pm at Victoria Park Lake, and Thursdays at5:45pm meeting at Princess Park. Now we will be offering a Sunday run leaving at 8am from Victoria Park Lake from the parkrun BBQ shelter. Distances and paces will be catered to individuals no matter if you are training for an event at the Shepparton Running Festival or not. Everyone is welcome no matter your pace or distance you intend to run, just like our Thursday nights but with the options to run longer if you wish.
Who – Shepparton Runners Club and anyone else who would like to do a longer run together
When – Each Sunday at 8am up till the Shepparton Running Festival
Where – Victoria Park Lake, Parkrun BBQ Shelter
Distance – All times and distances will be catered to, speak to Chris Armstrong at training or parkrun if you have any questions, just like our Thursday sessions but you have the option to run further if you wish.
Please let us know if you would like to run with us on Sunday to help with planning and give you the best experience possible.
Feel free to share to help get the word out.
Thanks,
Chris
Consolidated Shepparton Runners Club parkrun report.
Not only were we in Shepparton we toured to Cobram & Crosby parkrun
Full SRC results are here
RUN MELBOURNE
RUN THIS CITY ON 30 JULY 2017!
Run this city and take in all of Melbourne's iconic landmarks, feel the buzz of the live entertainment and soak up all the energy that Run Melbourne has to offer. It's time to reclaim the streets and join a crowd of thousands.
Website 

Shepparton Running Festival
Run on the region's best sealed, scenic pathways as they wind their way along the banks of the Goulburn and Broken Rivers. 
Enter at the website Here.
Create a team of up to 10 friends and run from Broken Hill to Sydney online in Sept 2017 to show the world you're taking steps to end family violence
Teams of up to 10 people can race Kirrily across the Ultramarathon course. Your team will be challenged to accumulate 1300km within 18 days and 3 hours starting on Wednesday 30th August 2017, when Kirrily leaves Broken Hill at 7am AEST, and as a team completing the distance before Kirrily arrives at the Opera House steps on Sunday 17th September 2017 at 10am AEST.
For more information see the website here.
Registrations are now open for the 2017 Sweat vs Steam event! Register now via the link below.
Website 
The Shepparton Runners Club has engaged the services of Damian Willoughby (Will) to develop content for social media. This content will be several short videos that will be boosted into Bendigo, Melbourne and Albury.
The Shepparton Runners Club would appreciate it if you could like all videos and also share them to your page.
If you're yet to develop your online presence, or you're ready to improve your digital traction, #WillOnSocialMedia will give you and your team the skills to grow your business through effective content marketing and digital strategy.
That's all for this week, so have a great running week!