Club News
Our first cross country handicap is this coming Sunday April 7 at Princess Park. First runner leaves at 8:15am and we will be doing a staggered handicap start for this one.
Registration portal is here – https://docs.google.com/…/1FAIpQLSfB4jWhQzqKQsvV8X…/viewform
Please register to assist with handicapping and catering for the bbq.
Cost – SRC Members – Free, Non-Members – $5
---
Last weekend
4 Kids Fun Run, Cobram
By Mathieu Ryan
So, as normal it was a late sign up for an event. Registered Friday and organised a ride with the Nicholson's. We lined up for our race, I noticed there weren't many in the field. We set off and I noticed I was sitting in 3rd. I thought this was great, didn't anticipate to keep it. We got over the new bridge and went back on the bush track which was clay. Great to run on as I was anticipating dirt. I caught 2nd place and managed to keep it. I had no hope of catching 1st place. Great support from the SRC Crew.
By Chris Nicholson
Last Sunday I had a run in the Half Marathon event at the 4 Kids Fun Run at Cobram.  Commencing and finishing at Thompsons Beach the Half Marathon event was two laps of the 10.55km course and was nearly entirely ran on a clay bush roads.  I say nearly as it did involve running twice over the newer Cobram-Barooga Bridge and back twice on the old Cobram-Barooga Bridge.  The ascent onto the old bridge involved a steep flight of about 20-30 stairs which on the first lap didn't require too much effort as I scooted up them with ease, however 20 kms in on the second lap it was a somewhat greater challenge and I decided that discretion was the better part of valour and rather than possibly tripping over I would be better off walking up them. The course itself was very picturesque running along the Murray and then through the bush.  The only problem with the bush track running was the effect it had on my watch's GPS signal with my instantaneous pace jumping all over the place.  The half marathon course was also the same course being used by the 10km runners so it was great to see the other SRC competitors out there with plenty of encouragement occurring.
I ran the race not setting out to run a fast, hard half marathon, rather I wanted to try and run 5km intervals with 2 km easy recoveries where I would try and run at what I think might be my marathon pace and keep an eye on how my heart rate responded. So over 21kms this was three sets of these intervals.  The idea behind this was to then use this data collection to assist in my marathon training plan for Shepparton later in the year.   Running this type of run was more difficult than I thought it would be as it takes a lot of discipline too run at a slower pace than you know you are capable of for the given distance, especially when my legs felt really fresh.
I ran most of the race with another runner who turned out was training for the Wellington Marathon in New Zealand in late June.  Unlike me who was running intervals at marathon pace, he was running the entire half at his desired marathon pace.   I gave him a heads up what I was doing early in the race so I didn't drive him crazy with my surges in pace.  Due to my intervals I would get a lead only to have him pass me in my recoveries, this allowed plenty of friendly banter as we passed one another repeatedly throughout the race.
Although numbers were not huge I really enjoyed the run.  The event was well organised with plenty of marshals and bling at the end.
By Debbie Harvey
My 10 km goal is to run under 1 hour.  At Wang, I ran I hour 26 seconds I think so I'm getting closer.  Did I want to try to do it at Cobram I wondered?  And then I realised that the 10 km run was actually 10.55 so I relaxed because there was no way of running under an hour.  Just go out and enjoy it I decided.
Chris, Rosalie and I headed up to Cobram Sunday morning.  It was a beautiful morning for running, not too hot, the track through the bush was lovely, the event was well organised and it was for a great cause.  It was great to have Half marathon, 10km runners and 5 km runners on the same track so  you could give and receive encouragement from other SRC folk along the way.
To my surprise, I ran at a pace of 6.01 so I am getting even closer to my goal without even going for it – except for the sprint home.   Ummm sorry for hogging all the media coverage.  Maybe the cameraman felt sorry for the old bird trying to run.
By Rosalie Smith
What a way to spend a Sunday morning!!  I was able to jump in with Debbie and Chris Harvey and travel to Cobram with them (thanks Deb and Chris).  Arriving at around 8am it was lovely to see the warm and friendly faces of SRC members especially the youngest of all, Annabelle, sporting her SRC running top to boot!
I certainly didn't go with a PB in mind, especially not having done much in the way of running over the past three weeks.  The 10.55 km was going to be a challenge and I intended on completing it running an easy pace, just to run the whole thing and not walk.  The track itself was a lovely bush track, the weather was perfect and I was surrounded by lots of happy people all with a little bit of like-mindedness!  We had SRC members in all events which is always great to see when you are out on the course.  Although other runners give words of encouragement, hearing it from your club members comes across louder and clearer, or was that just Chris Nicholson wearing earphones?
Looking at my splits they were fairly consistent.  The stairs up to the old bridge in the last km were a killer so my thoughts were with the half marathon runners who had to face them twice.
Thanks to all of those that volunteered their time to make the event possible.  I hope they raised a nice amount for this worthy cause.  Unfortunately the event clashed with lots of other family events in Cobram that weekend and the Albury event.
My time was 1:08:30 so well off a PB but, apart from those steps up to old bridge, I felt quite relaxed and probably could have run a few more kilometres quite easily.
Albury Half Marathon.
by Sam Daniel
Up very early to make the drive to Albury for the Murray Running Fest last Sunday. We were there in plenty of time, so no stress. As I hit the footpath at the start of the half-marathon, I really had to pull myself back from running too fast, I was chasing a PB, and I knew I'd get one this morning. Around the 15
km mark I was feeling pretty good, so I stopped stressing and decided to just run by feel. I picked up the pace in the final few kms, and came home at 1.45.13, a PB of 3 minutes from my last half in February. This was a full 20 minutes faster than the same half marathon in Albury last year.
Sam 1:46:13, Mel 2:07:59, Tara 2:16:41
---
Shepparton Runners Club 40th anniversary
Make sure you get down to the Shepparton Library and have a look at the Shepparton Runners Club 40th Anniversary display. We have lots of photos, medallions and memorabilia on display.
Stay up to date, like and share everything SRC 40th on our Faacebook page here
Tickets are now open. Come along and enjoy a night. Info flyer below.
Tickets – https://www.sheppartontickets.com.au/event/9057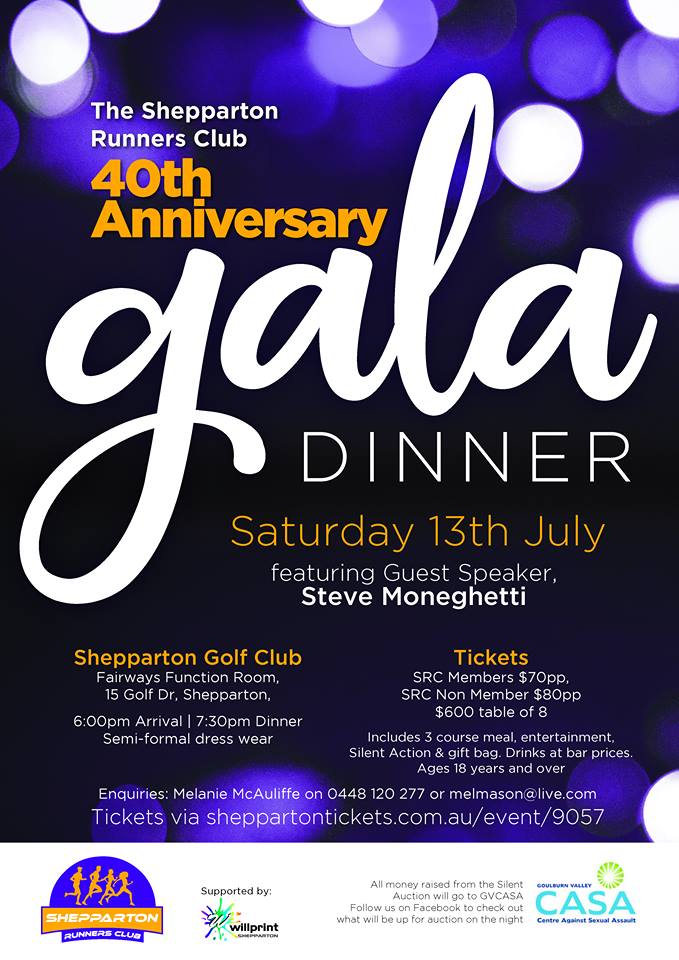 ---
250th parkun
As most of you know, last Saturday I ran my 250th parkrun. My stats aren't as impressive as those that have hit 205 before me. But as you know I don't run parkrun for the times. I run it for the people, tourism, and health benefits. I think my Facebook post covers all the thank-yous. And I think these photos say a lot about why I enjoy parkrun. Allan Connelly, thanks for bringing parkrun to Shepparton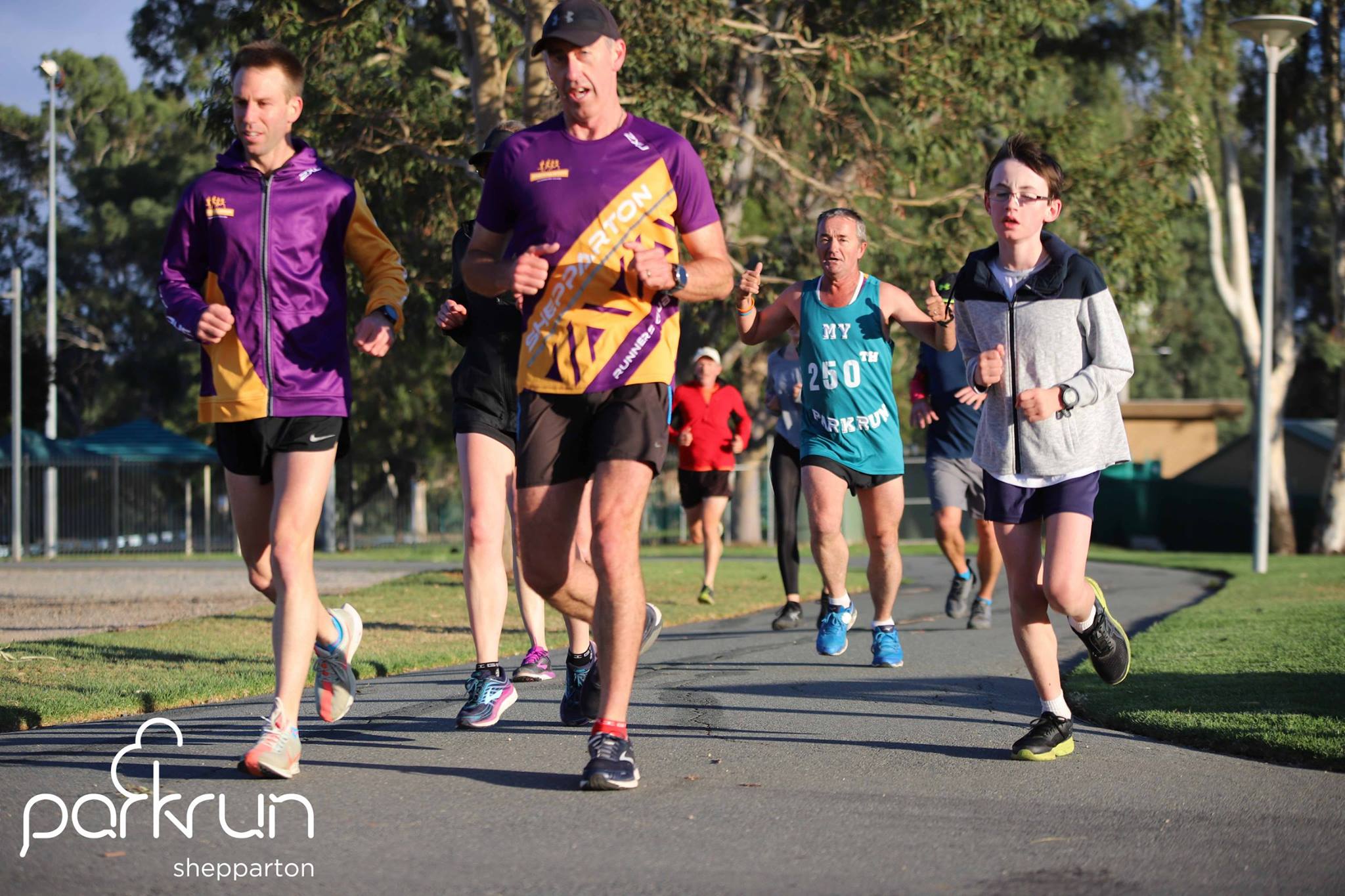 Above running with me at my 250th parkrun.
Chris, Chelsea, Cadel, Claire Nicholson, Chris and Norah Armstrong.
For the record and for old time sake, Cadel beat me by 1 second.
Above Chris doing it WAY TO EASY while I struggle
Above Chris and Norah doing it easy while they encourage me along.
---

https://sheppartonrunnersclub.com.au/wp-content/uploads/2019/03/55587649_10156256209070886_620522276332240896_o.jpg
960
1440
admin
https://sheppartonrunnersclub.com.au/wp-content/uploads/2017/06/SRC-Logo-300x221.png
admin
2019-04-04 10:59:07
2019-04-04 10:59:07
SRC E-News April 5