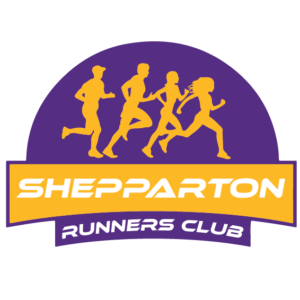 Weekly Training sessions
Training nights – It is great to see so many runners turning up to our training session . 30 – 40 runners are common.
Training nights will be 5:45 pm starts on Tuesday and Thursday – Tuesday meet at Parkrun bbq shelter for intervals, Thursday meet at Princess park for slow relaxed and easy run
Shepparton Runners Club Parkrun results in Shepparton and on tour.
The Road To Melbourne week 4
By Chris Armstrong
August 10km Handicap Results
Today we saw the last of the 10km handicap. It may have been cold and wet, but that didn't 18 runners from competing in the last of the 10km handicap series. Allan Connolly was first to cross the line, running a very strong race. Sam Daniel was second to cross, only 14 seconds behind Allan. We hope you both enjoy your Gift Vouchers from Sportsmans Warehouse.
We would like to say a big THANK YOU to everyone who helped with today's handicap, without the support from everyone, these handicaps wouldn't go ahead.
Click here for the full list of results.
Run Against Violence
– request by Julie Thomas.
I'm looking for keen runners/walkers to join a team for Run Against Violence. You can find all the information on their Facebook page, but in a nutshell it's teams of up to ten people clocking up 1300ks (per team) starting 7am 30 August and finishing 10am 17 September 2017.  A RAV runner will literally be running from Broken Hill to the Opera House finishing at The Sydney Running Festival on the 17th.
Whatever distance you cover each day, you log it onto our teams tally. If you do the math, based on ten people sharing the load, it's just over 7ks each per day. Some people will do more, some will do less, but as a team we will aim to make the distance.
Entry fee is $25 per person, the money goes to a great cause and if you need further motivation, each team member receives a medal.
RAV would like all teams members to be signed up and payment made in one transaction; I am more than happy to do this.
If you would like to join, contact me via email –  jewels19.jt@gmail. I will need your full name and email address. I will respond with payment details. Payment is required no later than 23 August so please contact me a few days prior to the 23rd to allow for turnaround and processing.
Thanks so much. I'm really looking forward to the challenge.
In the team so far
Julie Thomas
Steven Trevaskis
Mairead MacDougal.
All your questions answered regarding the Athletics track.
The official opening for the Athletics Track will become part of the overall official opening of the Sports Precinct which is occurring
1. Official opening – Sept 22.
2. Yes the Track will not be open to the public, any user casual or formal training groups will have to book the track
3. Yes an hourly rate of $61.60 per hour, plus a $70 key deposit and a completed booking form will be required before any access can be permitted.
4. Yes there will be a gate key – this has not yet been arranged – we are in the midst of having this organised and when we do we can take the formal bookings from groups such as yours and go through the process
on the 22 September.
The Shepparton Runners Club are looking into what we can do to make training on the track viable for all members. We will have more information in coming weeks.