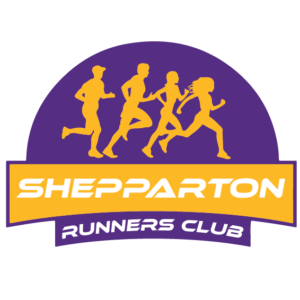 August handicap – Aug 6. 10km
Princess Park, Shepparton 8am start
The Shepparton Runners Club (SRC) will be hosting their 10km Handicap on Sunday, August 6, 2017 at Shepparton Runners Clubrooms at Princess Park Oval in Shepparton at 8am.
There will be prizes for winners of the handicap, as well as a barbeque breakfast after the run.
Entry is free for members! Participants are encouraged to arrive 20 minutes early to allow time for their handicap to be set prior to the race beginning, please see Tom Avram
ALL WELCOME – EVERY RUNNER IS ELIGIBLE FOR PRIZES
Prizes courtesy of Sportmans Warehouse Shepparton.
It would be appreciated if you let us know if your intend on run
RUN MELBOURNE 2017
-By Kate Dainton
Run Melbourne is one of my absolute favourite runs. For me it's not about time, but raising money for the people I love. My brother Joe and sister in Law, Deb had not run 10km before but had joined their local park run 2 months ago. They were nervous! It felt good to not be nervous! Hubby and I set out to be their support crew and pacers. They glided along for the first 6km.  All the down hills definitely built their spirits. At 8km they were not smiling or talking! The 60min pacer overtook us and gave us a cheer. I told Deb that we could get 60minutes but she was feeling the pain and all I got from her was "No, I don't care about those balloons" I laughed and we slowed a bit. At 9km Deb said she didn't like it anymore and wanted to walk. She was battling to see with her one eye (the other she lost due to a tumor) and had wobbly legs. We pushed them along. I told Deb if she fell I would carry her, but she was going to do it! We crossed the line together. There were lots of happy tears! The aim was to get a sub 1:10. We got 1:02.
We raised $1,300. You can still donate towards neuroscience, which affects millions of lives.  Deb had a brain tumor and had it removed along with an eye that is now replaced by a glass eye. She is supported by Royal Melbourne Hospital. Please visit to donate;
www.runmelbourne2017.everydayhero.com.au/team-agile-fundraising-for -the-rmh-neuroscience-foundation
P.S I had a phone call today…. "Kate, I think Joe and I should do Shepparton Running festival and get that sub 60minutes! "… I laughed well of course you should! They have the runners bug.
Kate Dainton
Run Melbourne
By Mathieu Ryan
2017 saw the Ryans and the Scobles participate in Run Melbourne for another year. This event is quickly becoming a tradition as it falls on the birthday weekends of Mathieu and Justine. How else should a family celebrate a birthday?
Robbie and Mathieu ran the Half Marathon, both achieving a new PB. Robbie crossed the line at 1:37:32 and Mathieu at 1:42:02.
Dylan, Kasey and Lesley ran the 10km course. Dylan finished with a time of 44:51, Kasey 1:11:10 and Lesley, with a new PB, of 1:11:10
Karisha Ryan and Mathieu (filling in for Justine) ran the 6km in a time of 36:05.
Road to Melbourne part 3
By Chris Armstrong
This week was a solid week, the main goal was to get the legs heavy to try and do a marathon workout as part of Run Melbourne in the half marathon on the Sunday. That being said, I still wanted to make sure all the little thing's I've been doing for recovery still got done, didn't want to feel like death out there!!
Here's the story of this week. There's some stuff on recovery, some shout outs to a few people, stuff on the sessions from the week, petrol watch and also something a little delicious at the end.
https://chrisruns4fun.wordpress.com/2017/07/30/the-road-to-melbourne-week-3/
The latest episode of the Road to the Berlin Marathon Podcast is now out. Enjoy.
https://itunes.apple.com/…/podcast/tell-me-yo…/id1116511977…
Weekly Training sessions

Tuesday 5:45 pm from BBQ area where parkrun
starts


Thursday 5:45 pm from Princess Park – easier social session on an out and back course.
Sunday 8:00 am from BBQ area where parkrun

starts. Choose your own distance

Great presentation from ultra marathon athlete Kirsten Bull  and Victorian Athletics' Association Tim Crosbie at the SRC clubrooms last night. Kirsten is the reigning  World champion female athlete over 100km. Members of the SRC enjoyed an inspiring and fascinating insight into ultra marathon running from Australia's latest World champion dynamo. Special thanks to both Kirsten.
Parkrun
This week we had visitors from Diamond Creek parkrun, Berwick Springs parkrun, Lalor parkrun and Pakenham parkrun.
A couple of our parkrunners that we know that done some tourism to other parkruns are Rosalie Smith – Echuca Moama parkrun and Our Event Director Allan Connolly – Stones Corner parkrun Ql
The latest news is here
SRC consolidated race report is here
Calendar
Shepparton Running Festival
August 27
Website 
Melbourne Marathon
October 15
Website 
Yarrawonga Mulwala multi-sport festival
October 21 -22
Website 
Ned Kelly Chase
October 22
Website 
Challenge Shepparton
November 11-12
Website 
40th Gold Coast Marathon
July 2018